Bill Boyd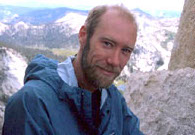 Specialty areas
Senior Network Administrator.
Biography
Here are some things that I like: singing, hiking, backpacking, photography, art in general, writing, reading, cooking, watching our son and our daughter grow.
I have a Bachelor's Degree in Physics from U.C. Berkeley (1985) and a Master's Degree in Astrophysics from C.U. Boulder (1989).
I was president of my junior high Star Trek Club.